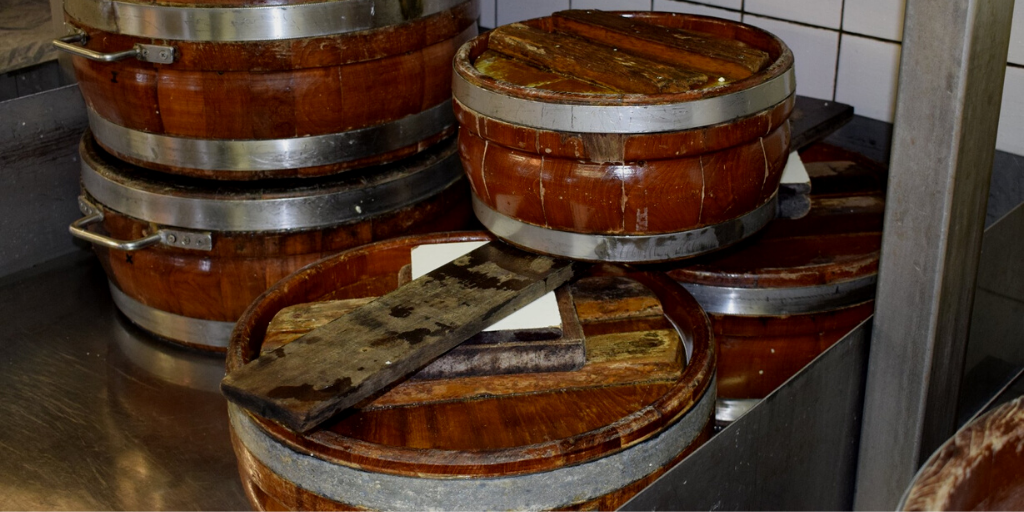 #kieslokaal on tour: Farmers Gouda Cheese from the Green Heart
Entrepreneurs are forced to look at their business differently in times of crisis. For example, caterer and Slow Food chef Jeroen van Nijnatten was able to keep his work agenda full of scratches with cancellations until after the summer. However, he didn't let it go and went – when he still could – to visit small-scale local producers. He shares his findings every week. This time in the spotlight: Boeren Gouda Cheese from the Green Heart.
Text and image // Jeroen van Nijnatten
Jeroen, you visited captein cheese farm. Can you tell me what you saw there?"I was allowed to take a look in the kitchen at the Captein cheese farm in Zoeterwoude. They make there, among other things. Farmers Gouda Cheese. Together with family van der Poel van der Poel van Hoeve Waterrijk from Rijpwetering and affineurs they form the Slow Food Presidency Boeren Gouda Oplegkaas."
How do they process their product?"A portion of the cheese made in the summer (made in wooden barrels with linen cloths) is eligible for the deposit. The cheese should ripen for at least a year and a half and this can last up to six years (!) Personally, I was allowed to bring a piece of 7 years (!) with me. Tastes nutd, intense and maggot-in-the-dark."
What makes this cheese so unique?"The cheeses are made by hand with traditional preparations and then pressed into linen cloths in wooden barrels. The protected brand Boeren Gouda Cheese should only be used for semi-hard summer cheese of high quality. The cheese must meet the requirements for boer cheese of the type Gouda Holland heavier than 20KG and must be produced from milk from cows that can graze as much as possible in the meadow in the Green Heart day and night on farms that also work for an agricultural nature and/or landscape organisation."
Where can I buy Boerse Opleg cheese?"You have to taste this cheese! Stop by the farm shops of the Captein family or family van der Poel. Or check out www.boerengoudseoplegkaas.nl for outlets elsewhere in the country."
– Jeroen van Nijnatten is a caterer in Utrecht. He is a specialist in the field of sophisticated catering and atmospheric dinners. As a member of the Slow Food Chefs Alliance, he cooks as much as possible with artisanal and regional products. As a result of the corona crisis, all his assignments have expired. However, he does not let it go and writes reports of his visit to local producers (which he could visit before corona times). For more information about Jeroen and his company, please visit www.jeroenvannijnatten.nl.
– We share this report in the context of #kieslokaal. It is often the small-scale local entrepreneurs who are struggling in this day and age. On www.slowfood.nl/kieslokaal you will find local food entrepreneurs where you can find fresh produce from your region.Order a meal. Buy a voucher. Choose local. Right now.
Source: https://slowfood.nl/kieslokaal/bgo-uit-het-groene-hart