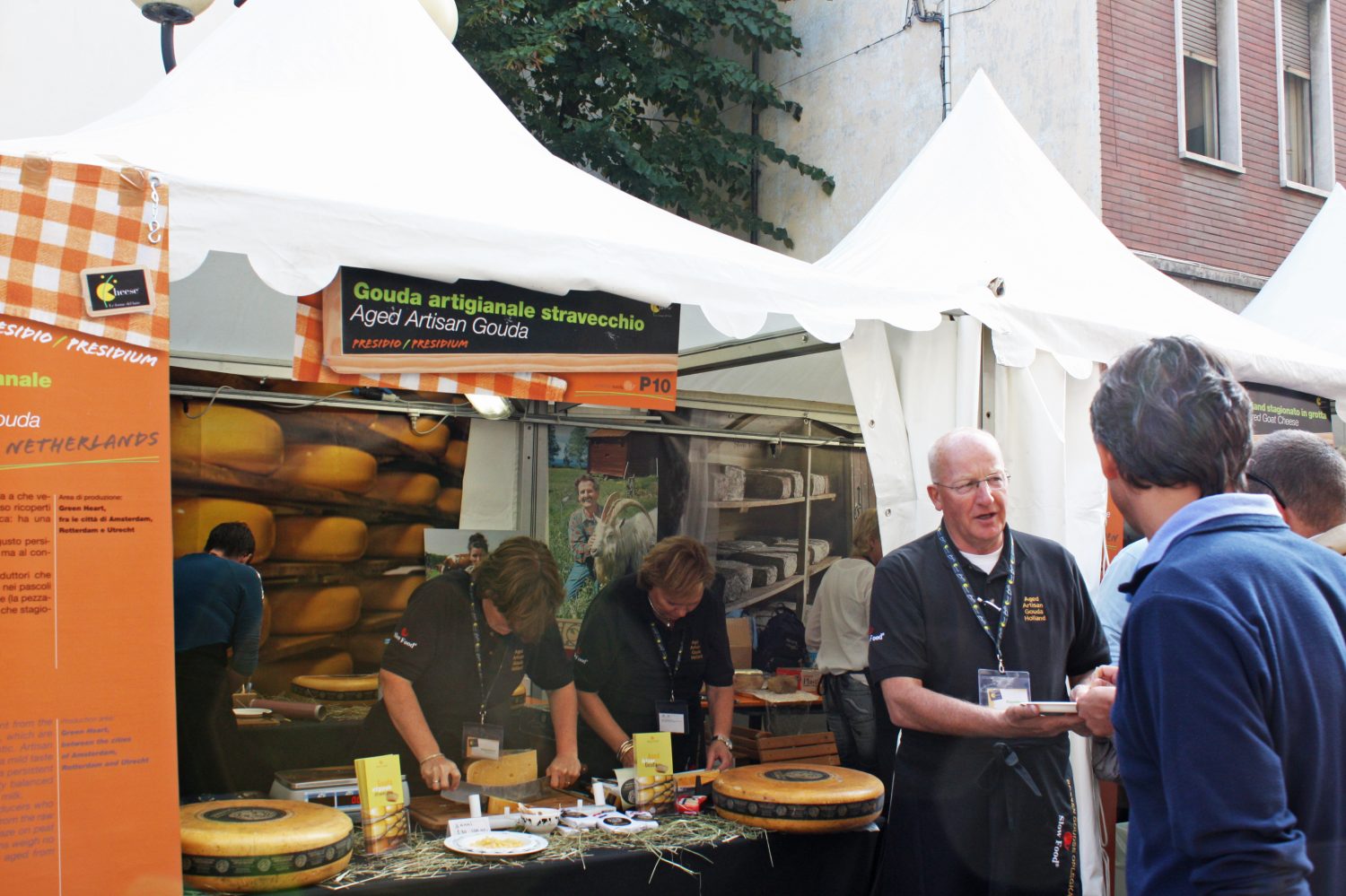 Milk&Health: Slow food laying cheese
Until a century ago, cows were off in the spring, producing milk from grass, turning the daily milk surplus in the summer into sustainable products such as raw milk farmer's cheese and raw milk butter. In winter, cows gave little or no milk. The farmers were responsible for making cheese or butter. Until the 20th century, cheese was made twice a day in wooden single-walled tubs, because preserving the warm raw milk was a problem. There was no cooling and the milk contained many lactic acid-forming bacteria from the wooden milking tool. Traditionally, Gouda cheese was made around the Gouda cheese market, just as the name of Stolwijk cheese, Leidse kaas and Edam cheese was named after the city where the cheese was traded. There was regional supply everywhere. The cities of Gouda, Leiden and Stolwijk are now part of the zg Groene Hart and the region is known for its large area of low peatgrass land and clay-on-peat grassland, where cows graze in summer. In European terms you would talk about a cheese with the designation PDO (Protected Designation of Origin), DOP (Denominazione di Origine Protetta) or AOC (Appellation d'Origine Côntrolée). A regionally produced cheese with a protected status due to the recipe, the form, the fat content and often by the breed of cows. Over time, the way of cheese making has changed a lot, which has made the concept of Gouda cheese rather stretched and thus meaningless. Most Gouda cheese is nowadays a factory cheese, where cheese milk is both pasteurized and standardized (48+). The cheese brand of the Gouda factory cheese is round. The farmer's cheese is made from the whole milk, including all the milk fat (52+ to 56+) and is basically not heated above 36-37oC. The cheese brand on the Gouda farm cheese looks like a regenton. Unfortunately, there is a lot of pollution of understanding nowadays. The term "farm cheese" is legally protected, but not "farm cheese" or even "farmer's cheese".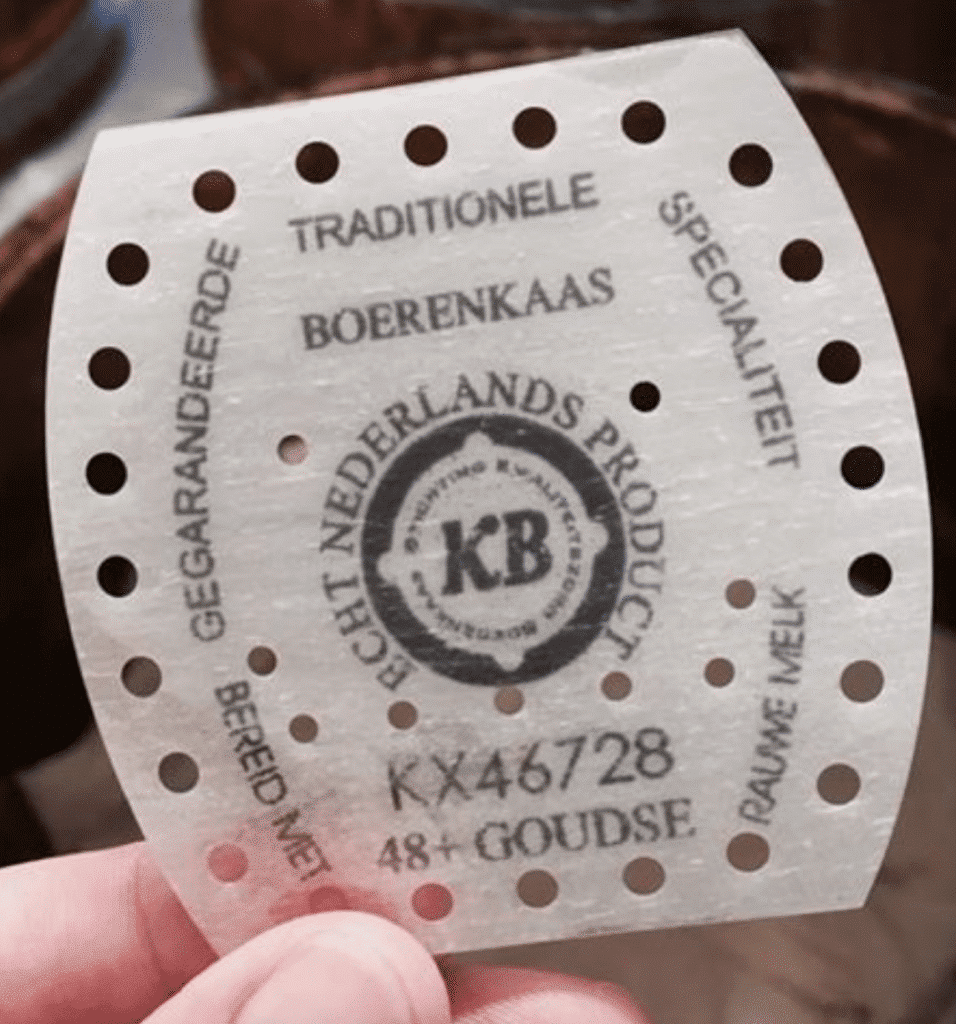 Following the rise of the Slow Food movement, traditional food production has been re-evaluated. Authenticity, transparency and tradition are paramount. Slow Food has attached the concept of Slow Food Presidency to several Dutch cheeses in order to protect the original production method. This means that there is a description of an old cultural asset, a food, such as the Boers Gouda Laying Cheese.
Laying cheese
In the book "around farm cheese" Van der Have en Oosterhuis describes that laying cheese was traditionally made from milk in the month of September. The imposition of cheese is another concept for the long-term storage of the cheese. The cow's milk in September had a good (read tight) fat/protein ratio (lots of protein, relatively less fat), because after the summer there was a powerful vegetative and clover-rich regrowth in the grassland after the summer drought. Research of fatty acids in milk from extensive farms, where the cows are on the meadow day and night, shows that the content of CLA (conjugated linoleic acid) is at its highest in August and September. In addition to the good fat/protein ratio in the milk and the high levels of unsaturated fatty acids, you get a soft, supple or smoldering dairy. The laying cheese was finished a bit drier during the making (lower moisture content) than cheese that was intended as young and young cheese. The low moisture content means that the cheese needs more time to taste. The cheese should ripen for at least 1-11/2 years at about 15oC. Ordinary old cheese is known for its hardness and crumbling. However, not these traditionally prepared Farmers Gouda Cheese. Even an over-annual BGO cheese remains cutable, because the fat in this type of cheese contains such a high content of unsaturated fatty acids. Compare the difference between summer and winter butter. Summer butter is soft and spreadable at room temperature, winter butter is hard at room temperature. The yellow color of the summer butter is an indication, that the butter is made from grass and not from winter food, which is carotene-poor and gives rise to a lot of saturated fat.
In determining the description "Presidency Boers Gouda Oplegkaas" several aspects of traditional preparation are included. The companies are located in the Green Heart (regional foreclosure). The BGO cheese can only be made if the cows graze day and night, between about 1 April and 1 October (milk from grass). The cheese is made from 1 or 2 milk grinds and the cheese milk must not be heated higher than 37oC (raw milk). rennet and a starting acid are used. Thermalizing (60oC) or pasteurization (72-80oC) is not allowed. The BGO cheese is made in 20 kg of shapes, a large cheese, which is suitable for long ripening in a warehouse, for at least 11/2 years, but also for 2-3 years. Traditional teak cheese barrels and linen cheesecloth (recipe and shape) are used. These cheese shapes hold the heat better than the current plastic barrels, so that the cheese drops very slowly in temperature in the 1st 24 hours and therefore a good conversion of lactose into lactic acid takes place. This is important for shelf life and taste. Little salt is added compared to factory cheese. Both Calcium chloride (supports the curdling of cheese milk) and nitrate (inhibits unwanted late bacterial growth, causing the cheese to become bulbous).
The Boers Gouda Oplegkaas can therefore be compared in terms of preparation with other raw milk fermented products such as raw milk kefir or a Camenbert from raw milk (lait cru). The concept of raw milk has taken a negative hit after the EHEC crisis. Raw raises fear of wrong bacteria and therefore it is better to speak of "fresh, untreated milk" which is the basis of these fermented milk products. BGO producers are taking a great risk to produce this very old cheese and are therefore appropriate to extract the cheese milk very hygienically. This method greatly reduces the risk of infection with unwanted bacteria, such as EHEC.
Measurable distinction (authenticity)?
Pisanu et al. (2015) compared a sheep's cheese made from raw milk (RMK) and pasteurized milk (PMK). A complete separation between the two cheese types was possible on the basis of the peptides formed from milk protein. These peptides formed during proteolysis play an important role in both the positive and negative elements in the smell and taste of the cheese. In addition, bioactive peptides are formed that can affect our metabolism. Based on their functionality, there is a higher proportion of peptides in the RMK that are immune-regulating and ACE-suppressing (ACE = Angiotensin-converting enzyme, enzymes that regulate blood pressure). In PMK, on the other hand, the proportion of peptides with opioid function was higher. This means that whether or not the milk is heated has an influence on the final product and its physiological efficacy. In addition to known differences in smell and taste between RMK and PMK, there are also differences in how the fermented milk product affects metabolism. The peptide formation (quantity and type) is further influenced by the season of production (summer cheese higher than winter cheese) and the ripening duration (the older, the more smaller peptides), (Vivar et al., 2009). Finally, the peptides profile as a whole is used to determine the authenticity of the cheese. In addition, animal species (cow, goat, buffalo), seasons (summer, winter) and maturation can be distinguished from each other on the basis of this complex profile (see, for example, Bernardi et al., 2015).
Immunology of matured cheese
A sister of the Boers Gouda Cheese is the Parmigiano Reggiano cheese (PR), known as Parmesan cheese. This cheese is also consumed as very old cheese (12-36 months). Grimaldi et al. (2016) discuss the immune-related properties of the maturation of such laying cheese. The comparison with BGO is not quite true, since the PR cheese is heated much higher (55oC), is made from partially detached milk and does not know the impedence of the BGO cheese. There is also a lack of compulsory grazing, which is also visible in the very low levels of CLAc9t11 in PR cheese. Arsenio et al. (2015) indicate a content of about 3.0%, which is even lower than what has been found in winter milk fat from organic farms, i.e. about 5.0% (Baars et al., 2012). Given the fat quality, dutch BGO cheese is preferable to such Parmesan cheese, as both omega-3 fatty acids and cla have been associated with a lower cow's milk allergy (Thijs et al., 2011). Grimaldi et al. (2016) finally indicate that the number of live bacteria during the maturation of the cheese systematically decreases, from about 106-107 bacteria/gram at 12 months to <103 bacteriën in een 3 jaar oude kaas. Such matured old cheese is becoming richer in the breakdown products of the milk protein, the bio-active peptides. Allessandri et al. (2012) tested 66 children with a cow's milk allergy, both with pasteurized milk and with the PR cheese. 76% of children showed an allergy reaction after provocation with pasteurized milk, while after consumption of PR cheese this proportion only 32% pass. Significant differences in response were further visible in the oncoming of Urticaria (swelling to the lips) and problems in the gastrointestinal tract (including diarrhoea).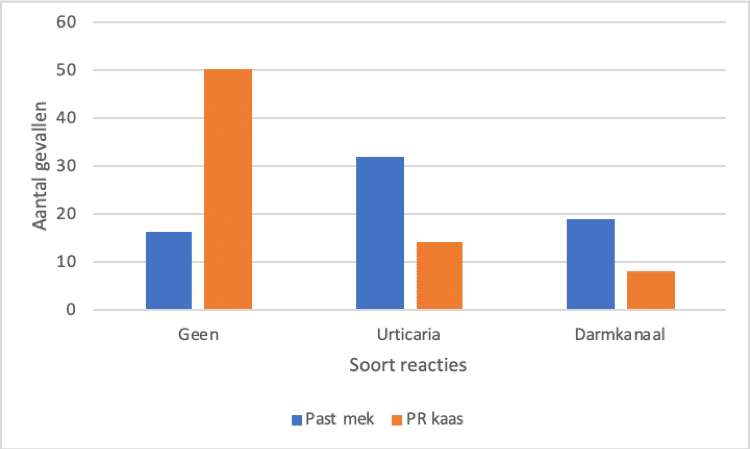 BGO cheese is made from fermented, non-heated milk and therefore it is expected that it is precisely this type of laying cheese in combination with its favourable fat content that can also be tolerated by patients with milk allergies, as is also evident from the consumption of raw milk kefir.
Lactose intolerance
People who can't digest milk sugar are called lactose intolerant. Their own enzyme system lacks lactase, which converts milk sugar into glucose and galactose. In addition to its own enzyme system, lactic acid bacteria also break down lactose. They do this to use the glucose for their energy and growth. Young Gouda cheese still contains a lot of lactose and therefore cannot be digested by people with lactose intolerance. In the EU Member States, different terms are used to give products a safe term: "lactose-free", "very low in lactose" or "lactose arm". It has been agreed to use these terms if the amount of lactose in a product is below the detection limit. This is set at 0.01 to 0.1 grams of lactose/100 grams of product. Several studies on the lactose content in cheese show that it is below the detection limit when the cheese has matured longer. The longer, the lower, basically. This applies not only to Gouda cheese, but also to other typical cheeses such as Comté, Cheddar or Emmenthaler cheese. Given the production process of the BGO cheese, it can be assumed, that again, that this cheese is so low in lactose that it can be digested by people with lactose intolerance.
BGO summarized
The Boers Gouda Laying Cheese unites the positives to make milk "sustainable" in a qualitative way:
Fresh, untreated milk that is not heated above body temperature
Fermented dairy with leb rennet and acidity
Milk mainly from fresh grass and grazing which produces a favourable fatty acid pattern
As much unsaturated fat as possible for a smedige cheese
Teak wood barrels for good heat insulation and 1st maturation
The long cheese maturation makes the product suitable for people with lactose intolerance
It is also likely that the BGO cheese is a fermented dairy product, which can be tolerated by patients with cow's milk allergy (further research is desirable)
A recent film made at one of the BGO producers can be found here
Source: https://www.milkandhealth.com/2019/09/05/slow-food-oplegkaas/