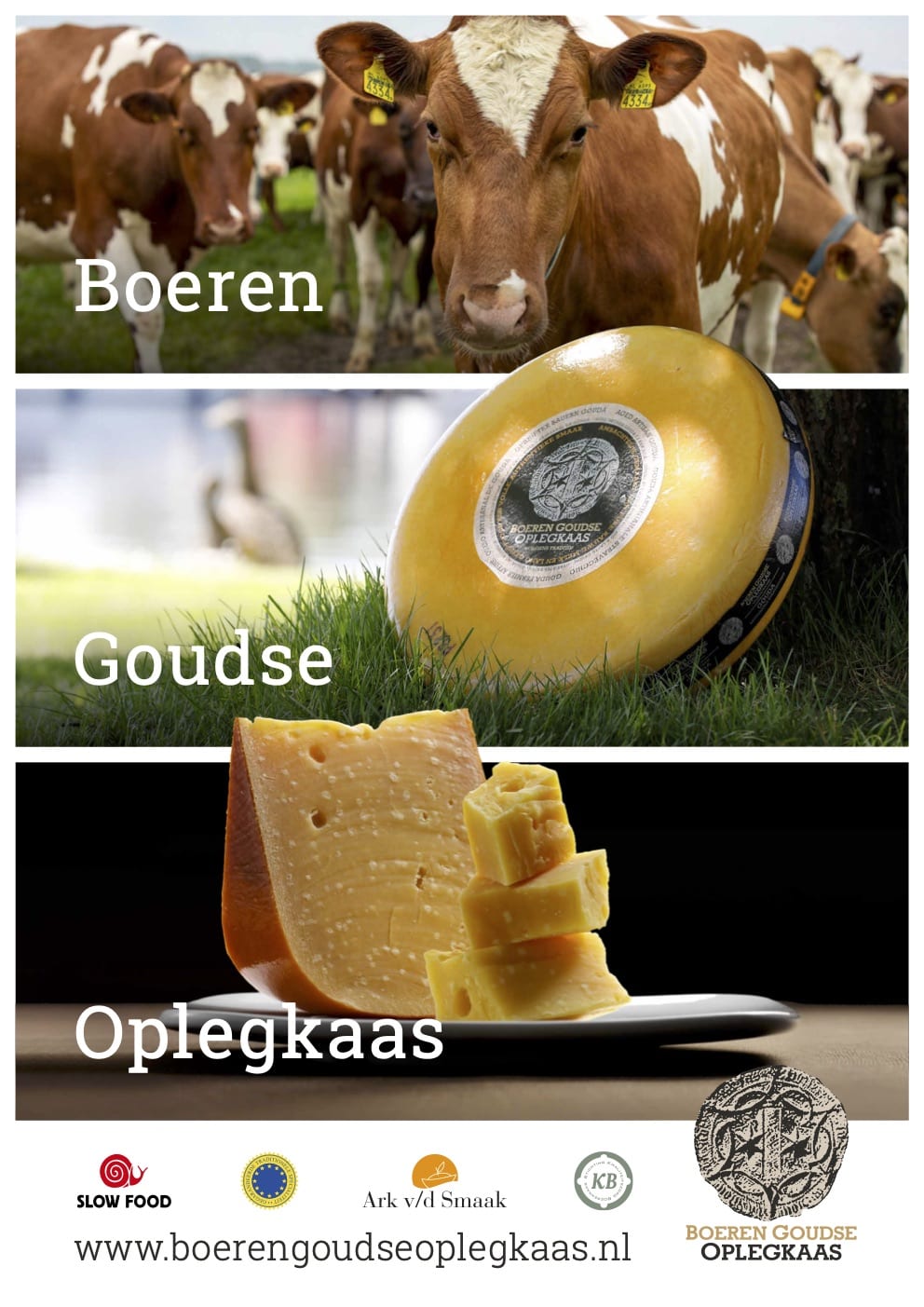 Celebrate The October farm cheese month with the Boers Gouda Cheese
Taste this tasty combination!
Buy a piece of Boer Gouda Cheese and
get free hand-made blackberry jelly
It's farm cheese month again! The name says it all: the whole month of October is all about the farm's artisanal farm cheese. On the occasion of this tasty month, stichting Boeren Gouda Oplegkaas has a special action: when purchasing a piece of Boer Gouda Cheese, consumers receive a blackberry jelly gift!
A piece of cheese and blackberry jelly: a tasty combination
If you want to get acquainted with the rich taste of Boers Gouda Oplegkaas – which melts on the tongue even after four years of ripening – you will receive a blackberry jelly gift, prepared by Fruit Farm Vink, when you buy a piece of Boer Gouda Cheese. The strong taste of the Boers Gouda Cheese is added to its own thanks to the blackberry jelly. It goes without saying that the farmer's cheese is very tasty even without a dip.
About Farmers Gouda Cheese
Boeren Gouda Laying Cheese is an imposing raw milk cheese – made in a traditional way – by two passionate farming families from the Green heart: Family Captein from Zoeterwoude and Familie Van der Poel from Rijpwetering. With the summer milk of their cows, they are the only ones in the Netherlands to make Gouda Laying Cheese on their own yard, with attention to meadow birds, animal welfare and biodiversity.
Thanks to the attention and passion of the Captein family and the Van der Poel family for making artisan farmers Gouda Cheese, the cheese tastes very unique. In addition, the following elements play an essential role in the production process.
Farmers
Made from raw milk from own cows that graze in the meadow all summer.
Gouda
Recognizable by its characteristic shape, a yellow wheel that with its large weight of up to 20 kilos is suitable for long ripening.
Laying cheese
Made to leave on the shelves! Matured for at least 1.5 years to develop its rich, full flavour. By using wooden barrels containing linen cloths, the cheese is unprecedentedly creamy.
It is clear that Boeren Gouda Cheese is a unique product. The cheese is therefore included in the Ark of Taste: an international catalogue of small-scale quality products that belong to a specific culture, history or tradition of a region or country. The Ark of Taste is a project of Slow Food with the aim of preserving and restoring biodiversity.
All product-specific information can now be found on the new website: www.boerengoudseoplegkaas.nl.
---
About the action
Would you like to know more about the action of stichting Boeren Goudse Oplegkaas in combination with blackberry jelly? Check out www.blokkaas.nl (Cheese Shop Arie Blok) or check out www.kaashandelremijn.nl (Cheese Trade Remijn).
About the Farmers' Foundation for The Cheese of The Cheese of The People's Cheese
Would you like to know more about the Boers Gouda Cheese Foundation? Check out www.boerengoudseoplegkaas.nl or e-mail to Miriam Offermans (President of the Boers Gouda Cheese Foundation) via contact@boerengoudseoplegkaas
About Captein Cheese Farm – Family Captein
More information on www.kaasboerderijcaptein.nl.
About Hoeve Waterrijk – Family van der Poel
More information on www.hoevewaterrijk.nl.